If you'd like to be considered as a Guest for WHOlanta 2018, please contact Alan. Preference given to Guests with professional connections to Doctor Who or British popular media, or an interest or knowledge in those areas.
DOCTOR WHO GUESTS:
JANET FIELDING is best known to Doctor Who fans for playing Tegan Jovanka, companion to the Fourth and Fifth Doctors, from 1981 to 1984. Her first season with Peter Davison as the Fifth Doctor has just been released on Blu-Ray, and later this year you can watch her debut story—Tom Baker's finale, "Logopolis"—also on Blu-Ray. She starred in numerous Doctor Who classics like "Earthshock", "The Visitation", "Arc of Infinity", "Enlightenment" and "Resurrection of the Daleks." She was on hand for the show's 20th Anniversary in "The Five Doctors" and turned in brilliant performances in "Kinda" and "Snakedance." She has revisited Tegan in numerous Big Finish original Doctor Who stories. She was born in Brisbane, Australia and had originally planned to become a journalist. After moving to England to break into acting, she found roles in Hammer House of Horror, Minder, Shelley, Blind Justice, Parnell and the Englishwoman, and others. In 1991 she became the administrator of Women in Film and Television UK, an organization dedicated to advancing professional development and achievement for women working in all areas of film, video, and other screen-based media. She became an actors' agent, and in fact represented Paul McGann when he took on the role of the Eighth Doctor in 1996. She is currently the Project Coordinator for Project MotorHouse, a charity based in Ramsgate which aims to modernize the old motor museum into a multi-use venue featuring offices, bars, a restaurant, a café and cinemas, where local youths will have a chance to learn from successful businesses. She organized two Doctor Who events as fundraisers for Project MotorHouse, with appearances by many of the Doctors, including Peter Capaldi.
---
EDWARD RUSSELL was Brand Manager on Doctor Who from 2006 until 2017, working across not only the commercial side of the series, but all the marketing, press and photography. Basically, if you watched it, read it, listened to it or collected it, he gave the official stamp of approval on it. As the main point of contact for Publishing, Licensing, Digital, Sales, and Events, there's almost nothing with the name Doctor Who on it that he wasn't involved in. He began his career working in music publishing. He joined the BBC in 2000 to manage their online content for Top of the Pops and TOTP2. He stepped into the role of Doctor Who Brand Manager as the show was entering its second series. His era included three Doctors, two showrunners and, of course, the 50th anniversary in 2013, managing the show's production, promotion, and commercial activities. Having left the BBC in 2017, he's currently a project producer for Tiny Rebel Games, creators of the mobile game Doctor Who: Legacy.
www.edwardrussell.co.uk
---
JASON HAIGH-ELLERY founded Big Finish Productions in 1998 and the company has grown to be the largest independent producer of Audio Drama in the world, working regularly with media corporations such as the BBC, MGM and ABC on Doctor Who, Torchwood, Stargate, Survivors, Blake's 7, The Prisoner, and on original series such as Graceless and The Confessions of Dorian Grey.  Big Finish won the BBC Audio Drama Award for Best Drama for Doctor Who in both 2014 and 2017. In 2011, Jason also founded the animation house Planet 55 Studios in Sydney, Australia, working first with the BBC on two animated versions of Doctor Who and creating the original 26 part drama Prisoner Zero for ABC which can now be seen on Netflix in the US.  A new show is in development for 2020. For television, Big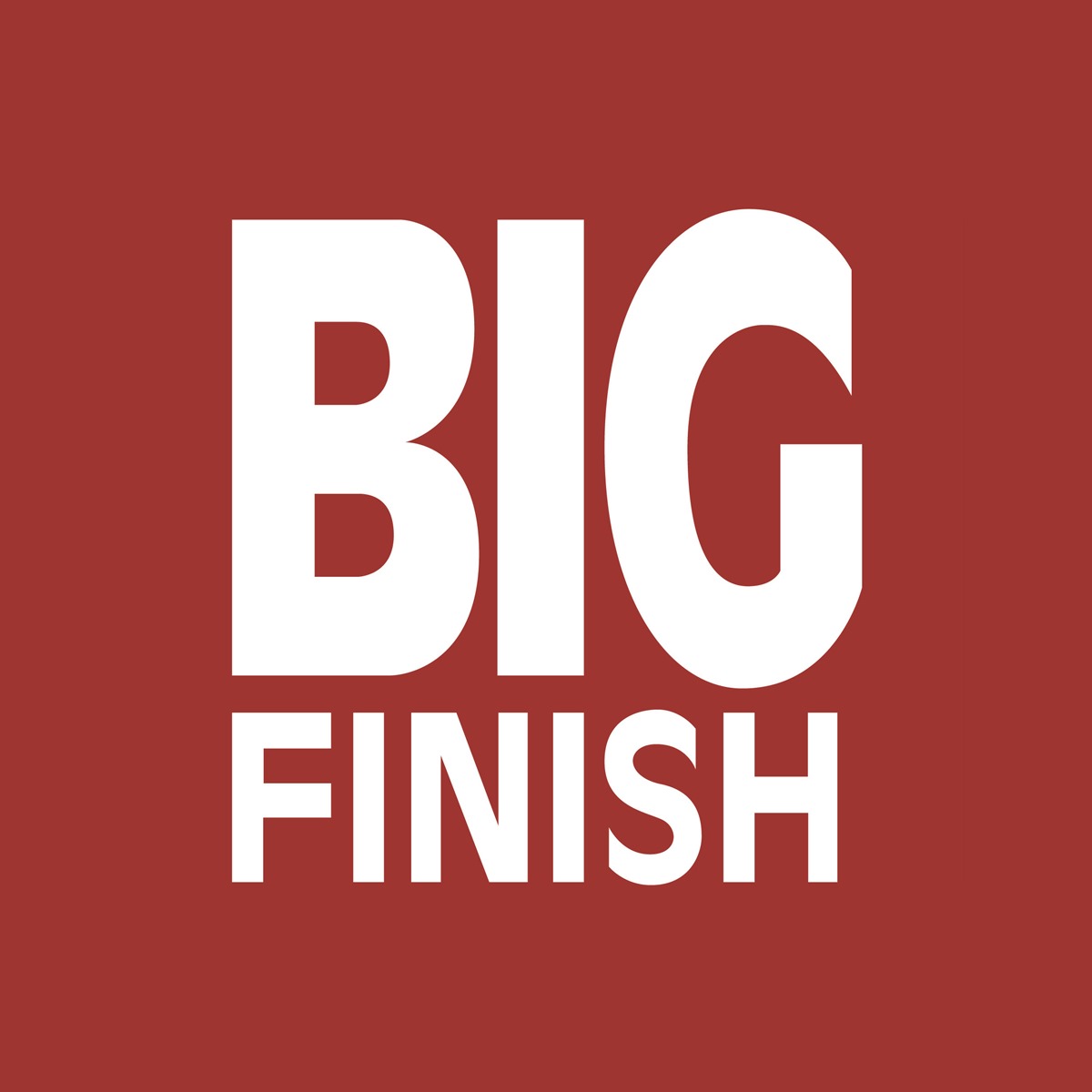 Finish Entertainment has produced two reality shows – Nadia Goes to Hollywood and Nadia: Chasing the Dream for TV3 and been involved with reality shows Strictly Dance Fever (BBC) and Fame – the Musical (RTE).  Jason is presently developing a new teen television drama for an Australian broadcaster. Jason has produced 33 theatre shows in the West End and on tour including Rock of Ages, Spring Awakening, High Society, Yes Prime Minister, The Ladykillers, Flashdance, Never Forget, New Boy and Footloose – the Musical.  He has worked with Lythgoe Family on all of their American pantos. Jason was Executive Producer on the movie The Time of Their Lives distributed by Universal Pictures – which was subsequently a #1 comedy on Amazon.
www.bigfinish.com
---
ROBERT ALLSOPP got his start on Doctor Who in 1987 and worked all throughout the Sylvester McCoy era, creating iconic costumes and props such as the Doctor's question mark umbrella handle, the Gods of Ragnorak, the armor for Morgana le Fay, and of course the unforgettable Kandyman. He continued working on the new series, creating the Peg Dolls for the episode "Night Terrors," the Handbots and Old Amy's armor in "The Girl Who Waited," the costumes worn by Jabe and her Tree guards in "The End of the World," the superhero costume in "The Return of Dr. Mysterio," Rory's Roman armor, the costumes for the Thijarians in the episode "The Demons of the Punjab," and of course the beautiful costumes worn by the Time Lords in the 50th Anniversary episode, "The Day of the Doctor." He produced recreations of all
of the stage-worn Freddie Mercury costumes for Rami Malek in the Queen biopic Bohemian Rhapsody, including the iconic jester leotard. He built space suits for Matt Damon in The Martian and for Life starring Jake Gyllenhaal and Ryan Reynolds, made the skeletal masks for the James Bond film Spectre, designed masks for In Bruges, did extensive leather work for League of Extraordinary Gentlemen, created all of Meryl Streep's tiaras for Florence Foster Jenkins, and contributed costumes and or props on Kingdom of Heaven, Transformers: The Last Knight, Poldark, Dredd, X-Men (Magneto's helmet), Love's Labour's Lost, Poldark, Rawhead Rex, and many others. He also designed props and costumes for Kate Bush's most recent concerts in London and for numerous plays and ballets around the world.
---
JON DAVEY has been one of Doctor Who's go-to guys for monsters and aliens since the 2006 episode "Rise of the Cybermen." You may not recognize his face at first, but you've definitely seen him on screen many times: He's the only onscreen performer to have appeared in Doctor Who, Torchwood, The Sarah Jane Adventures, and Class. His roles have included Daleks, Cybermen, Judoon Captains, Ood, a Dream Crab, Heavenly Host, a Whisperman, a Shadowkin, a Mire Warrior, and numerous UNIT soldiers, plus many more. He has performed most of these roles as part of the Doctor Who Symphonic Spectacular concerts and tours. He's made other appearances on shows like Merlin, Wizard v Aliens, Casualty, Atlantis and he was featured in Rogue One. He has served as a director of photography and a camera operator on Big Brother and X-Factor, and produced camera lighting for an animated sequence in the Simon Pegg movie A Fantastic Fear of Everything. He enjoys puppetry and stop-motion animation, and has been on the production team of nearly 50 music videos, producing stop-motion sequences, timelapses or operating cameras for clients ranging from Radiohead, Scissor Sisters, and Mc Fly to the Offspring and Kula Shaker.
---
LOUIS ROBINSON currently makes his living as a professional singer/songwriter and can be found regularly performing and working with other singer/songwriters in the area. Before coming to America, he worked for the BBC for many years, in a number of capacities in both television and radio. He wrote, produced, composed and directed many different productions. In the '70s, he worked in the film editing department, contributing to such shows as The Brothers (starring Colin Baker and Kate O'Mara), The Onedin Line, Doomwatch (created by Kit Pedler and Gerry Davis, famous for also creating the Cybermen), and of course, Doctor Who. Throughout the 70s and 80s he was commissioned by radio producers to compose songs on any given subject. "'I don't want it good,' they would say, 'I want it next Thursday, and I want it exactly two minutes and fifteen seconds long'." In 1978 he wrote songs for the radio show That Was the West That Was, which won a Best Comedy Script award and was nominated for Best Comedy Show of the Year. In 1984 he was the Program Associate of the hit show Telly Addicts. He worked on the entire run of that show, from the development of its pilot in 1984 to the final episode in 1998. Robinson is also a Sherlock Holmes expert and enjoys giving presentations on that subject. www.louisrobinson.com 
---
KELLY YATES: You know Kelly's work on the Doctor Who comics line for both IDW and Titan, including his work on "The Prisoners of Time" and "The Forgotten," plus the exclusive WHOlanta cover of the Twelfth Doctor comic for Free Comic Book Day in 2017. He has two creator-owned comic series to his name, Amber Atoms and MonstHer. More recently, he is the creator of the Kawai'i line of Doctor Who merchandise, which includes vinyl figures and apparel, including exclusives for Hot Topic. [Full bio coming soon!]
---
PIXELWHO: PixelWho is comprised of two team members: Nathan Skreslet who is the Artist behind PixelWho, and Ly Cao who is the Manager and PR. Nathan has been a professional graphic designer for nearly 20 years; with experience in graphic, concept, and commercial design. He has done book 
cover designs for several Doctor Who short fiction anthologies and book cover work for several episode and merchandise guides, as well as a series of novellas published by Telos books. He has also contributed both writing and artwork to several Doctor Who anthologies. He is currently a graphic designer based in Richmond, Virginia. PixelWho started in late 2010 as an original art project. Nathan, a fan of Doctor Who since age 8, has always wanted to document every character that has appeared in his beloved show. He combined this idea with his love for nostalgic 80s video game graphics, resulting in a series of limited edition pixelated 8-bit style art prints. The goal is to document every major and incidental character in story order from every Doctor as a way to celebrate the creativity and dedication of all the artists who have worked on the program over the past 55+ years. He has completed limited edition prints for the 1st (Hartnell), 4th (T. Baker), 8th (McGann), 9th (Eccleston), 10th (Tennant), and 11th (Smith) Doctor series/movie runs. He is working on completing all the Doctors. PixelWho has been written about in the official BBC Doctor Who newsletter and website, CNet, Kotaku, Gallifrey Times, Kasterborous, etc. He has also started expanding into other beloved fandoms and now has an array of pixelated geeky artwork that encompasses the world of Harry Potter, Firefly, Star Wars, and MCU. In addition, PixelWho teamed up with the creative minds behind "Doctor Who: Legacy", the popular and official BBC game. PixelWho provided pixelated backgrounds, characters, and art designs for a special multi-level storyline called "Bigger on the Inside"; with game chapters written by premiere authors of the Doctor Who world. The storyline revolved around his signature pixelated art style, and this special collaboration resulted in PixelWho artwork becoming official Doctor Who canon.
Like their Facebook Page: www.facebook.com/PixelWho 
Buy PixelWho Products: www.PixelWho.com
Follow them on Instagram: www.instagram.com/PixelWho
Follow them on Twitter: www.twitter.com/PixelWhoArt
---
JOSHUA WILSON is an associate editor for Mad Norwegian Press, a publisher of Doctor Who reference guides including the celebrated About Time series, Running Through Corridors and AHistory. Mad Norwegian also has a range of essay books pertaining to women and fandom, including the Hugo-nominated Chicks Dig Time Lords, Whedonistas! and Chicks Dig Comics. Appropriately, Wilson met future Mad Norwegian Editor-in-Chief Lars Pearson during a Doctor Who trivia match in 1998 (Lars won, battered and bruised, after a fierce battle of wills) which led to a consultation on I, Who, Mad Norwegian's first reference guide on Doctor Who and a position as an associate editor.
Wilson also co-hosts the popular Doctor Who podcast, The Oncoming Storm, which focuses on Doctor Who spinoff media. Along with his other hosts (including WHOlanta Doctor Who track director Ashley Raburn and WHOlanta panelist Rachel Stewart), Josh spends each episode looking at the best (and sometimes worst) books, audios, and comics featuring the Doctor.
Josh is an Atlanta native whose wife and two children are loving enough, somehow, to put up with all of his Doctor Who nonsense, although he secretly indoctrinated both kids into Doctor Who fanatics, much to the chagrin of his wife.
TELEVISION GUESTS:
MARC SCOTT ZICREE has written and produced hundreds of hours of TV programs and worked for virtually all the major studios and networks. His credits include Star Trek- The Next Generation, Deep Space Nine, Twilight Zone, Babylon 5, Beauty And The Beast, Forever Knight, Sliders, Friday The 13th – The Series, Liberty's Kids, Superfriends, He-Man, Real Ghostbusters and Smurfs, and many others, as well as pilots For CBS, NBC, ABC and Showtime. Zicree's landmark book The Twilight Zone Companion has been credited with creating the modern genre of books on TV series and inspiring a generation of series creators and filmmakers, including J.J Abrams and Damon Lindelof. He also produced and recorded fifty episode commentaries for the Twilight Zone Blu-ray release. Marc has been nominated for the American Book Award, Humanitas Prize and Diane Thomas Award, has won the prestigious Hamptons Prize, Rondo and Saturn Awards and was just named by the Writers Guild a 2014 WGA Diversity Honoree. Marc is currently writing, directing and producing Space Command, a series of science fiction features starring fellow WHOlanta guests Ethan McDowell and Bryan McClure alongside Doug Jones (Star Trek: Discovery, Pan's Labyrinth, Falling Skies), Armin Shimerman (Star Trek: Deep Space Nine, Buffy), Mira Furlan (Babylon 5, Lost), Bill Mumy (Lost In Space, Babylon 5) and Robert Picardo & Ethan Phillips (Star Trek: Voyager).
---
ETHAN McDOWELL is an Atlanta-based actor who is best known as the lead in the new indie sci-fi series Space Command created and written by Marc Scott Zicree. Ethan plays Captain Jack Kemmer in the series, leading a cast that includes Doug Jones, Bill Mumy, Robert Picardo, Mira Furlan, and Bruce Boxleitner. Ethan has appeared in Marvel's The Gifted, MacGyver, Dynasty, the upcoming Western Soiled Doves, and a four-episode stint in DC's Doom Patrol. In addition to Space Command, his sci-fi pedigree includes RZ-9, Alien Expedition, and the upcoming mini-series Debris: The Ganymede Event.
---
BRYAN McCLURE is an Atlanta-based actor who, along with his friend Ethan McDowell, appears in the new indie sci-fi series Space Command, created and written by Marc Scott Zicree. Last year was a busy year for McClure. He booked a short film called Sheep alongside Paul Walter Hauser (I,Tonya and Blackkklansman) and Randy Havens (Stranger Things). This film will be playing at the 2019 Atlanta Film Festival. Shortly thereafter, his film Still won "Best Produced in Georgia" at the 2018 Atlanta Film Festival (it stars Madeline Brewer from Handmaid's Tale, Lydia Wilson Star Trek: Beyond and Nick Blood Agents of S.H.I.E.L.D). Still has since received distribution and is now on iTunes and all VOD platforms. Additionally, McClure's episode of the award-winning series Atlanta (created by Donald Glover) was nominated for a Primetime Emmy. Midyear, he shot two features films; one support role in Dr. Bird's Advice for Sad Poets (starring Jason Isaacs) and one lead role in "In Other Words" (additional cast mates: Chris Kattan, Edy Ganem "Devious Maids", and Natasha Esca "Narcos: Mexico"). In the latter part of the year, he worked and three episodic shows; a small recurring part in the BET series "American Soul", a recurring role on season 2 of a Emmy nominated Nexflix show (information hasn't yet been publicly released), and finally, an episode of the new Warner Brothers TV show "Doom Patrol". Beyond that, McClure has acted alongside Colin Hanks in "Lucky", Grace Park & Lauren German in "Hawaii Five-0", Tom Arnold in "April Showers", and many other notable projects.
ARTIST GUESTS:
GEORGES JEANTY is an Eisner Award-winning, New York Times bestselling comic book illustrator, whose first major work was Marvel Comics' Bishop: The Last X-Man (1999). Currently, his work can be seen in Age of X-Man: The X-Tremists, part of Marvel's "Enter the Age of X-Man" story arc. Along with his work on many Marvel and DC Comics titles, Georges is known for the critically acclaimed sixties-era graphic novel The American Way (2006) written by screenwriter John Ridley and published by DC Comics, its sequel The American Way: Those Above and Those Below (2017), and being a regular artist for Dark Horse Comics' official continuation of Buffy the Vampire Slayer and Serenity (2007-2018). Serenity: Leaves On The Wind appeared on the New York Times bestseller list in 2014. Georges contributed to Marvel series such as Gambit, Deadpool and Weapon X, and for DC he has worked on titles including Batman, Batwoman, and Teen Titans.
---
MARK MADDOX is a four-time recipient of the Rondo Award for Artist of the Year and once for the Pulp Factory Award for Cover of the Year. His art has graced the covers of The Art of Doctor Who Special, Screem Magazine (including the Star Wars: The Force Awakens, Universal Monsters, Mystery Science Theater 3000 and American Horror Story covers), Infinity Magazine, Shout Factory, Severin Films and Kino Lorber Blu-ray covers, HorrorHound Magazine, Moonstone Publishing (including Kolchak: The Night Stalker), Little Shoppe Of Horrors, Undying Monsters, Star Trek and Doctor Who books by R. Alan Siler, Video Watchdog, Troy Howarths Book on Paul Naschy, Cemetary Dance books, Mad Scientist Magazine, Airship27 Books, Hemlock Books, Thrilling Tales, Bond Unknown, A book on the Full Moon Productions of Charles Band, We Belong Dead Magazine, Don Glut's Frankenstein series for Pulp 2.0 Press, and more. He has also done illustrations for Warner Brothers, Doctor Who Magazine (including the Bookazines), EMCE Toys Star Trek line of figures, Dan Curtis Productions/Dark Shadows artwork, The Time Bandit (from the TV series The Deadliest Catch), a Christopher Lee bio DVD for Alchemy Werks, art for the Cortlandt Hull DVD history of The Phantom Of the Opera, Bookmarks Magazine, New Legend Productions, Flying Lab Software, White Rocket Books and much more. Having done many Vincent Price book and magazine covers Mark has become an officially licensed artist through the Vincent Price estate. He lives in Tallahassee, Florida.
AUTHOR GUESTS:
ROBIN BURKS is an entertainment writer, published author, avid con-goer and cosplayer. She currently writes for ScreenRant, The Things and FanGirlConfessions.com. Robin is also the author of a series of speculative fiction novels: Zeus, Inc.; The Curse of Hekate; and Return of The Titans. In 2014, Indie Reader named the protagonist of that series, Alex Grosjean, as one of its Top Five Smart, Strong and Relatable Female Characters. Robin, who currently lives in Missouri with her five cats, loves all things French and has a serious obsession with Doctor Who. You can find out all about Robin by visiting her website on her Amazon Author Page
---
COURTLAND LEWIS is author of Way of the Doctor, Repentance and the Right to Forgiveness, and editor of Doctor Who and Philosophy, and its sequel, More Doctor Who and Philosophy (with Paula Smithka). He received his PhD from the University of Tennessee and teaches at Owensboro Community and Technical College. Father, husband, musician, and lover of all things Doctor Who, Courtland is currently working on a series of books entitled Who Cares?, with the first volume focusing on Tom Baker. You can also find his writings in Children of Time: The Companions of Doctor Who, Time and Relative Dimensions in Faith: Religion and Doctor Who, Behind the Sofa (a collection to aid Alzheimer's research), and Philosophia.
---
LEE MARTINDALE is a writer, editor, and nano-press publisher who credits Atlanta fandom with introducing her to all things Who. She edited the groundbreaking Such a Pretty Face and The Ladies of Trade Town, and has written stories for Esther Friesner's Turn the Other Chick, Chicks & Balances, Witch Way to the Mall and Fangs for the Mammaries, three volumes of Marion Zimmer Bradley's Sword and Sorceress anthology series, Catopolis, Warrior Wisewoman 2, Low Port, and others. A collection of her work, Bard's Road, came out in 2014. She's currently involved in R. Alan Siler's Children of Time: The Companions of Doctor Who project and pulling her first novel out of the muck. In addition to slinging fiction, Lee is a Named Bard, a longtime civil and human rights activist, and a Lifetime Active Member of the Science Fiction and Fantasy Writers of America. Her hobbies include sharp pointy things, like rapiers and knitting needles, and sharing news with friends and fans at www.HarpHaven.net from her home in Plano, TX.
---
KATHRYN SULLIVAN has been writing science fiction and fantasy since she was 14 years old. Having read her father's collection of SF and fantasy, she started writing her own. The world set up in The Crystal Throne has been developing since then. Some of the short stories escaped into fanzines, print zines and ezines, but those were collected into Agents & Adepts. Her fictional works include "Search and Rescue", "Hiding in Plain Sight", Talking to Trees, "The Diplomat's Story" (a Sixth Doctor story for Big Finish's Short Trips: Repercussions), "The Oracle of Cilens", "The Monster and the Archaeologists" (a Bernice Summerfield story for Big Finish). She has published numerous essays, including "One Choice or None" in OUTSIDE IN: 160 New Perspectives on 160 Classic Doctor Who Stories by 160 Writers and "You Love I" in OUTSIDE IN BOLDLY GOES: 117 New Perspectives on 117 Classic Star Trek Stories by 117 Writers, both from ATB Publishing, and "The Fanzine Factor" in Chicks Dig Time Lords from Mad Norwegian Press.
---
JAMES WYLDER is the author of twelve books, including the Doctor Who poetry book An Eloquence of Time and Space, and the #1 Amazon Time Travel series 10,000 Dawns, which crossed over with the universe of Doctor Who in his novella White Canvas last year. He's also written for Shotgun Angel Games LLC. James lives in Indianapolis Indiana, where he drinks too much tea and coffee and enjoys roleplaying games and reading obscure Doctor Who spin-off books. You can learn more about him at jameswylder.com.
---
DEBBIE VIGUIÉ is the New York Times Bestselling author of more than five dozen novels, most of them dark fantasies, mysteries, and supernatural thrillers including the Wicked series co-authored with Nancy Holder, the Witch Hunt trilogy, and the Psalm 23 Mysteries. She writes in almost every genre. In addition to novels, Debbie is also a screenwriter and playwright. As a writing consultant, Debbie helps those needing professional writing services and mentors and teaches writers in different stages of their careers. She works on biographies, memoirs, and business books helping them through every phase of development. She created Anyone Can Be A Writer, a comprehensive course that takes you from developing your story and characters to pitching your book to agents and publishers. As the Chief Visionary Officer for Brazen Wench Productions Debbie oversees expansion into every branch of media. She also plots the course for future expansion and development. She also takes a hands-on approach with some projects, most notably Doctor Geek's Laboratory on which she portrays the character of Claire. Debbie works as a game master, consultant, script and story writer, and gameplay creator for several different groups. She has worked on escape rooms, live-action immersive games, subscription box adventures and mysteries, and board games. Debbie also tours the country speaking on a number of topics. She lectures on writing, provides commentary on the significance of various pop culture phenomenon, and leads spiritual retreats. As part of Doctor Geek's Science Fair she also educates on STEAM related topics. Visit Debbie online at www.debbievigue.com
---
DR. SCOTT VIGUIÉ holds two doctorate degrees and is an Archaeologist, author, actor, attorney, and the creator of Doctor Geek's Laboratory, and Doctor Geek's Science Fair – STEAM outreach programs which explore concepts found in fiction and relates them to cutting edge scientific breakthroughs. Scott has written the non-fiction book Archaeology in Fiction exploring the tropes of archaeology in the media and how they compare to real archaeology. He has also co-authored the Tex Ravencroft science fiction adventure novels with his wife, Debbie Viguié. In his position with Brazen Wench Productions he oversees the production of quality entertainment across multiple platforms and promotes projects that have a STEAM (Science, Technology, Engineering, Art, Mathematics) outreach component. Scott is the territory manager of Museums, Science Centers, Escape Rooms, and Virtual / Augmented Reality for White Sword Theming, a full-service theming company responsible for creating all aspects of themed environments. In addition to scripting, acting, and producing event, film, and audio productions, Scott is also a consultant for the Science & Entertainment Exchange, a volunteer network based out of Los Angles, California that connects productions with experts who can add a little science to the fiction. Scott serves as the Chairman of the Board of The Viguie Foundation, Inc., a non-profit organization dedicated to promoting science based learning and edutainment. Visit Scott online at www.drgeeklab.com
BROADCASTERS / FILMMAKERS:
JC and RITA De La TORRE (Transmissions From Atlantis Entertainment): The husband-and-wife duo of Rita and JC De La Torre are filmmakers, producers of audio drama, animated series and VR/AR experiences through their multi-media company, Transmissions From Atlantis Entertainment. Their film, Seekers of the Lost Worlds, won Best Film at the 2018 Honolulu Film Festival and was the finalist for many other awards with other festivals.  JC and Rita show their love for all things Doctor Who with their Doctor Who Instantcast Transmissions From Gallifrey.
https://www.facebook.com/TransmissionsFromAtlantis/
---
RETROTV is the broadcast home of Classic Doctor Who in America. RetroTV's run of Doctor Who began with the first two episodes of "An Unearthly Child" on August 4, 2014, showing two episodes every weeknight and a block of four episodes every Saturday evening. Their other programming ranges from classic comedies like Mystery Science Theater 3000, The Lucy Show, Petticoat Junction, and The Beverly Hillbillies to dramas that stand the test of time like Doctor Who, Highway to Heaven, Naked City, I Spy, One Step Beyond and more, Retro TV is The Best in Classic Television! Rediscover an old favorite or find a new one right here, with their selection of programming from the beginnings of television through the '90s, all designed to take you back in time to enjoy the greatest hits of yesteryear!
---
Geeking out about our favorite Time Lord, one story at a time. EARTH STATION WHO is a show dedicated to the culture around the BBC icon Doctor Who. Join Mike F, Mike G, Jennifer Hartshorn and Mary Ogle as we explore the 50-year history and fandom surrounding the Doctor with reviews, interviews, and general discussions about the show. Be prepared for surprises, though; you never know WHO might pop up as a guest on Earth Station Who!
PERFORMERS:
FELT NERDY is the Atlanta-based, husband and wife performance team of Veronica Dashell and Charles Kelso.  Veronica has a background in performance having been on the stage since age 5 and holds two degrees in Theatre. Charles is a life-long nerd turned writer, whose work can also be seen in fan productions from Potemkin Pictures and in the long-running Star Trek Animated webcomic. Together, they produce a unique blend of family-friendly entertainment and nerdy pop-culture comedy that can be seen at science fiction conventions and local events across the Southeast!
https://www.facebook.com/FeltNerdy/
---
Lt. MOXIE MAGNUS is a shimmering, glowing star in the firmament of the United Federation of Planets. Through space age sling-shot technology, this seven and a half foot tall glamazon (mostly hair and heels) has come rocketing back to us from the future, dragging some laughs with her along the way! In the 23rd century, she serves as the Chief Cosmetology Officer aboard the USS Enterprise under the command of James T. Kirk. There, she navigates the world of serially dating redshirts and keeping the fleet in regulation bouffants. Here, in the 21st century, she writes about her adventures, with tongue firmly placed in cheek, in her blog, Moxie Magnus: Star Trek Cosmetologist. Her mission is to tackle each of the episodes of the original series with her own brand of space humor! Moxie was born in space, grew up a human slave in the Orion Syndicate and walked the runways of Paris before graduating top of her class at Starfleet Academy. She is the only cadet in history to pass the Kobayashi Hairdo, the no-win Starfleet master xenocosmetology exit exam (and she didn't cheat). Her thesis, "Zero-G Styling Technology: Captain, We Have Lift-off", is still recognized as the seminal work in its field.  Although she has often been told "In space, no one can hear you, queen", that hasn't stopped her from entertaining fans and the fleet both in and out of this world. She's even gotten a few laughs from the Vulcan High Council. In her spare time, this dedicated Star Trek drag queen enjoys cataloging unicorn species, looking at pictures of cats on the internet and trying out new replicated food cube recipes. Her favorite movies are Beach Blanket Bingo, Gidget and Pon Far Surf Party.
---
CAT SMITH is the reigning Miss Nerdstiles, having inherited the crown from absolutely no one, because she made it up. She is an actor, a musician, a cosplayer since before they had a word for it, and a general nuisance (General Nuisance *salute*). She and her ukulele have charmed the collective socks off of LI Who and LI Geek, ReGeneration Who, WHOlanta, Potterverse, Coal Hill Con, Time Eddy, MISTI-Con, Hudson Valley Comic Con, Wicked Faire, SqueeCon, and The Way Station. You can find her on YouTube and Instagram as deadlightsgirl (and bandcamp at https://missnerdstiles.bandcamp.com/album/who-riginals), and she has a real fondness for small batch bourbon, in case you were wondering/buying. Consider supporting her continuing adventures by becoming a patron at patreon.com/missnerdstiles 
---
THE KEN SPIVEY BAND: Time Lord Rock Meets The Wizarding World! The NPR and MTV.com praised Ken Spivey Band combines mad Celtic energy with raw punk mayhem, while beguiling audiences with gypsy charm. KEN SPIVEY has expanded his Renaissance act into the science fiction/fantasy world by performing his critic and fan acclaimed original music based on the long-running British science fiction series, Doctor Who. Beginning in 2015, Ken Spivey has begun to draw more inspiration from The Wizarding Worlds, as well as other realms of fantasy.  Ken also began to introduce new musical elements into his band's already diverse sound…Raga Rock, the music of the Middle East, 1990's Grunge, as well as further exploring the genres of Celtic Drinking Music and Punkish Pop Rock. Due to his over twenty years of stage experience, his music's unique and diverse songwriting style, Ken's fan approachability, coupled with his extensive knowledge of all things Whovian (as well as many other subjects in related genre, sci-fi or fantasy universes)…Ken has become one of the most requested musicians and guests at many of the nation's premier conventions. In addition, Ken has sat on or led numerous science fiction & Fantasy related panels at conventions all over the southeastern US.  He often draws from his academic background in Gender Theory, Sexuality, and Romantic Relationships in the Ancient and Modern World when speaking upon various topics. AUDRY SPIVEY further explored her passion of music through the art of dance after years of vocal and classical music training. Her journey led her from Egyptian, Oriental, folkloric and fusion styles.  Audrey's voice brings a sultry quality to the band which perfectly match her beguiling, dance-inspired stage presence.  In addition to singing, Audrey also performs on keyboard, synth, zills, and various forms of percussion.
Cancellations:
RICHARD STARKINGS is the Eisner Award-nominated creator/writer of Image Comics' Elephantmen and founder of comicbookfonts.com. His Doctor Who association began when he contributed cartoon strips to TARDIS, the official magazine of the Doctor Who Appreciation Society, in the early 1980s; he then went to work for Marvel UK and worked on the official Doctor Who comic strip as an editor, writer and/or lettering artist since the mid-1980s. For Doctor Who Magazine he wrote or co-wrote classic comic series "Time and Tide", "Nemesis of the Daleks" (a Seventh Doctor strip featuring recurring character Abslom Daak: Dalek Hunter), and "Up Above the Gods" (a Sixth Doctor / Davros story); he also wrote "Cold Blooded War" (Tenth Doctor and Donna story featuring the Draconians) for IDW. His company Comicraft currently letters all the Titan Doctor Who comics and has also counted Marvel Comics, DC Comics, Dark Horse Comics and Image Comics as clients. He loves Yorkshire Tea, Cadbury's Flake and Lori Perkins but not necessarily in that order.